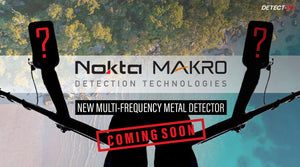 Launched | Nokta Makro's new SMF Metal Detector
UPDATED 19/6/23


The most anticipated Metal Detector of the year, the new 'Simultaneous Multi-Frequency (SMF) Metal Detector' by Nokta Makro is shaping up to be an extremely exciting contender for the best all-round metal detector of 2021.
Now while it's not officially named, or released yet... we have very good reason to be excited about this new machine - and here's why!

With Nokta Makro being one of the world's leading manufacturers of metal detectors, they have an extremely good reputation for listening to their customers feedback, making big promises and still exceeding all expectations with their new metal detectors.  Nokta Makro's research & development centre is currently compiling all of this customer feedback to bring users an SMF metal detector more powerful than any of their previous offering at a price point we've not seen before.
The Juicy Stuff...
1. It will use True Simultaneous Multi-Frequency (SMF) Technology.
The new detector by Nokta Makro will feature advanced simultaneous multi frequency technology which the company claims will give it performance rivalling and possibly exceeding all current competitors!  This SMF metal detector will obviously use multiple frequencies all at one time to give accurate and deep target detection and accuracy but will also offer a host of single frequencies which can be used standalone in niche applications.


2. It will have a few additional, unexpected features up its sleeve.

 
Dilek Gonulay, Director of Sales and Marketing at Nokta Makro stated in an interview that "It will have some features that are going to be better than the competitors out there ON TOP OF its performance and depth and how it handles at the beach with the salt water.  It also has some nice features I think the customers are going to like".  

3. The new tech will be wrapped up in a rugged, fully waterproof housing.

Dilek also mentions that the new multi frequency detector will be sharing the same rugged and fully waterproof housing currently utilised by their most popular detector, the Simplex+
This is very exciting for us to hear as the Simplex+ housing has well and truly proven itself in the metal detecting world as robust and user friendly. Therefore, it's excellent news to hear the new SMF detector will be using the same housing.
The reliability of the Simplex+ housing combined with the performance and depth of multi-frequency technology, could very well make this the best beach metal detector yet!
At Detect-Ed Metal Detecting, we operate the Australian Nokta Makro Service Centre for all Nokta Makro repairs and warranty work. We're very pleased to report that we have not seen a single flooded or leaked Simplex in Australia in the 1.5 years since their release!

4. It'll be cleverly powered, featuring a replaceable battery pack.

The company has made an interesting choice with the power solution for this new detector, they say their new machine will have the battery mounted under the arm cuff and will be replaceable by the user unlike other detectors which need to have the battery replaced by a technician.  This means users can keep multiple spare batteries on hand for out in the field and replace older batteries down the road when needed.


5. The Lower Shaft will be made from a premium material.

Nokta Makro have officially confirmed that the new detector will also come with a carbon fibre lower shaft as standard!  The carbon lower shaft will minimise the already low weight of the detector whilst keeping the whole detector rigid, and your swing steady.

We are currently assuming that the new detector will use the same telescopic collapsible shaft assembly as the Simplex+ and therefore be a very portable and low weight detector you can easily throw in a backpack.

6. The new Coil will be "completely different" to the Simplex+ Coil.

Nokta Makro has stated that the coil on the new detector will be completely different to the one on the Simplex+.  We are not sure if the coil will look completely different or just be completely different internally but we get the impression that it will be both.

7. It will feature a competitive price tag, with competitive specs.

Although we do not yet have an exact price point for the multi frequency detector, we do know that this detector will be priced higher than the Simplex+.  Dilek says "It's going to be a high-end machine" and is being made to compete with the current best treasure detectors out there.  She also says "Spec to spec, we are going to be offering more for less price".

8. Bluetooth inbound

Previous Nokta Makro Metal detectors used 2.4gHz wireless technology to pair the headphones with their machines however the company have stated that the new Simultaneous Multi Frequency machine will be using a Bluetooth system to wireless connect its included headphones.
9. Gold prospecting
Unlike the vast majority of competing metal detectors available, Nokta Makro's new SMF machine will feature true gold prospecting capabilities they say.  The proposed large range of frequencies will clearly include some high frequencies ideal for detecting much smaller nuggets!
When will this new multi-frequency detector be released?
Nokta Makros new SMF detector will officially be launched 10am EST November 19 2021!
The company will be doing a live online launch and are offering the live viewers a chance to win one of the new detectors!
You can register for the live reveal HERE to be notified of the launch and to enter the draw to win one of these new SMF detectors!
Beyond these official announcements, there's also some exciting speculation!

There are many unconfirmed aspects of the new unnamed Multi Frequency detector but at this point we are sure that the new detector is designed to compete directly with the current most popular treasure detector, the Equinox 800 by Minelab.
The Equinox 800 is largely regarded as the best all round metal detector at this stage because it excels in a huge range of environments on a broad range of targets like jewellery at the beach, ancient coins and even gold nuggets in our Australian gold fields.  We know that Nokta intends to match or exceed the Equinox 800 in performance so we think it's safe to assume that the company is aiming to make a detector capable of detecting all target types in all environments.


In Summary:
Although we don't know the exact performance and price point of this machine just yet, we do know that Nokta Makro has a history of exceeding expectations which makes this very exciting. We can't wait for more details about this new machine.

You can bet that as soon as the first units land in Australia, we'll be putting it to the test and sharing everything we can, as soon as we can! 
For more news and reviews, you're welcome to subscribe to our newsletter (at the bottom of this page) and join the facebook group for the new detector here. 


Happy Hunting,
From the team at Detect-Ed.
---
16 comments